FYI, saya baru je kenal sape Adam Khoo ni.Citernya cengginih , jeng jeng jeng.. Semalam pegi jejalan kat MPH, and as usual, sebagai ulat buku yang separa tegar dan rapuh imannya, saya sevey-sevey la buku yang menarik kat pasaran. Oh well, ada macam-macam buku yang menarik-tertarik-kau-memang-debab. Tapi kan, buku ni sangatlah menarik tajuknya, Secrets of building multi-million dollar business, hasil tulisan Adam Khoo.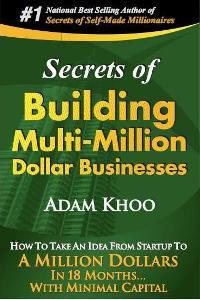 Adam Khoo Yean Ann is a Singaporean entrepreneur, national best-selling author and trainer. A self-made millionaire by the age of 26, he is one of the youngest millionaires in Singapore, and owns and ... (
Wikipedia
)
Sangat menarik dan bersahaja okay, memang tak bosan coz cara penulisannya macam Adam ni bercakap ngan kite pulak eh.. 100% money back guarantee ! Ececeh, aku kah yang penerbit buku ni siap berani bagi money back guarantee. Harga : RM 49.90 . Worth every penny.